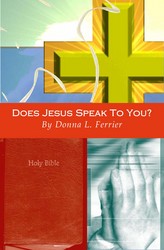 Ada, Okla. (PRWEB) April 23, 2008
Inspirational Christian author Donna L. Ferrier's new book, "Does Jesus Speak to You?" answers a variety of questions regarding faith. Inquiries responded to include, "Does Jesus speak to us today?" "How does he speak?" and "Why is this important?"
Donna says the book challenges professed born-again Christians to examine their walks with God to see whether they really have been transformed by the Lord.
"Sadly," Donna says, "I've discovered that many professed Christians, for example, can't even spiritually discern God's Word enough to apply it to their lives. This is more indicative of someone who isn't a Christian, however, than of someone who is." Throughout the book, Donna uses personal testimonies combined with scripture to discuss how Jesus reveals Himself.
Donna says that the key to understanding a Christian's personal relationship with Jesus Christ lies in verses like Romans 12:2: "Do not conform any longer to the pattern of this world, but be transformed by the renewing of your mind. Then you will be able to test and approve what God's will is, his good, pleasing, and perfect will (NIV)."
"Unfortunately," says Donna, "this transformation does not take place among so many who claim to know the Lord, and as a result, people who aren't Christians look at professed believers getting drunk in bars or beating up their spouses and saying, 'See, look, that person's a Christian.' Many false doctrines have been perpetuated because of that mindset."
Donna believes that one of the greatest spiritual tragedies is that people who are searching for Christ ironically don't want anything to do with Him because of all the false Christianity they mistake for the real thing. "Don't get me wrong," Donna says. "Everyone sins, and every Christian makes mistakes that disrupt our fellowship with the Lord and with one another. That's why we as believers must be sure that our minds are being renewed on a daily basis. It's the only way we can a) have the mind of Christ and b) let the world see what that really means."
For more information on the news that is the subject of this release, contact Donna L. Ferrier, or visit www.DoesJesusSpeakToYou.com.
About the Author:

Donna L. Ferrier was born and raised in the Washington, D.C., metropolitan area and relocated to Ada, Oklahoma, in 2004. She became a Christian at the age of 21 in college in 1988, and has been active in numerous singles ministries since that time. Donna is now an inspirational author, editor, and book publisher, and is working toward her MA in Biblical Studies.
Contact: Donna L. Ferrier

Phone: 580-332-3288 or 580-310-6151

E-mail: jesusspeakstoyou @ aol.com

Website: www.DoesJesusSpeakToYou.com
###