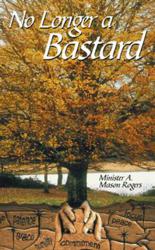 (PRWEB) March 05, 2012
In her new book ?No Longer a Bastard? (published by CrossBooks), Minister A. Mason Rogers offers a faith-based argument for removing the negative power of the word "bastard.?
?No Longer A Bastard? was written to dispel the myth about the word bastard and the stigma that is placed on individuals because of single parenthood. ?The word bastard has been used to be offensive, to degrade, injure and has been insulting to many people due to the nature in which it was used,? Rogers writes. ?We don?t get to choose our biological parents, but we get to choose a loving father who loves us unconditionally because we allow him to chastise us concerning the errors that we make in this life therefore restoring us to right fellowship and relationship.?
?No Longer a Bastard? offers this dedication to readers:

?We don?t get to choose our parents or who births us naturally. But we do get to choose our destiny and come to the fulfillment of our purpose in this life by accepting Jesus Christ as our Lord and Savior. May this word be a blessing to you the reader. Remember, the fulfillment of your purpose lies in the quotient of all your errors.?
Much of the inspiration for ?No Longer a Bastard? can be given to Rogers?s own childhood. ?I was born to a single parent,? she offers. ?My father died when I was 10 years old. I never really knew him, and I would have loved to have had a father-daughter relationship. It would have filled so many areas in my life that were empty.?
Filled with remembrances and faith-filled argument, ?No Longer a Bastard? offers readers an uplifting and inspirational method of overcoming intolerance and insult.
About the Author

Minister A. Mason Rogers, known as ?Mama J,? attended the Beeson Divinity School of Samford University in Montgomery, Alabama. She serves as a minister at Jubilee Christian Fellowship International Church and works with the Women of Revolutionary Distinction. Rogers resides in Tuskegee, Alabama.
CrossBooks, a division of LifeWay Christian Resources of the Southern Baptist Convention, is a Christian publishing imprint committed to bringing more Christian voices into the publishing industry. Established authors, first-time authors, and authors anywhere in between can meet their goals and fulfill their vision for their books by publishing with CrossBooks. CrossBooks? innovative style of publishing blends the best of traditional and self-publishing. While our authors contribute monetarily to cover the cost of publishing, we maintain a strict moral and quality standard that every manuscript must meet for us to publish. For more information on publishing your Christian book with CrossBooks, log on to crossbooks.com or call 1-866-879-0502.
Related Christian Singles Press Releases