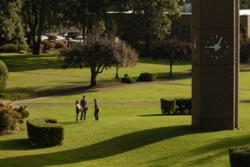 Newberg, Ore. (PRWEB) November 07, 2011
Undergraduate students interested in competing for academic and leadership scholarships at George Fox University may be eligible to participate in the university?s annual Scholarship Competition, scheduled Friday and Saturday, Feb. 10-11, 2012, on the school?s Newberg, Ore., campus.
The invitation-only event is open to students with outstanding academic records, test scores or leadership ability. Those who wish to receive an invitation to participate must have a 3.0 cumulative high school GPA and complete an application to the university by Dec. 1. Application is available online at apply.georgefox.edu.
Among the college scholarships available are academic scholarships and leadership awards. It is anticipated that the university?s scholarship committee will award approximately 80 academic scholarships ranging from $ 10,000 to $ 16,000 (distributed over four years).
Scholarships will potentially be awarded in more than 30 areas of study, including accounting, art, biology, chemistry, English, music, nursing, psychology and theatre.
Each student may participate in one academic competition, and up to three scholarships may be awarded in each subject category. Continuation of the scholarship beyond the sophomore year is contingent on the student pursuing a major in the academic area of scholarship.
First-place winners receive $ 16,000; second-place recipients earn $ 12,800; and those who earn third place receive $ 10,000. All award winners must maintain a 2.5 George Fox grade point average and remain in good standing with the university to continue receiving the scholarship beyond the sophomore year.
Also available are leadership awards, intended to recognize students who demonstrate outstanding leadership experience or involvement in co-curricular activities and who intend to contribute to the George Fox University community through participation, involvement and continued development of leadership skills. Leadership awards range from $ 2,000 to $ 20,000 per year.
More information on George Fox?s financial aid offers is available at scholarship.georgefox.edu.

George Fox undergraduate students have a wide range of majors to choose from, as the university offers more than 40 bachelor?s degrees in disciplines ranging from the arts and sciences to business, education, psychology and social work.
George Fox University is ranked by Forbes and Kiplinger?s among the top Christian colleges in the country. George Fox is a Christian university classified by U.S. News & World Report as a first tier regional university and a ?Best Value? school. More than 3,500 students attend classes on the university?s campus in Newberg, Ore., and at teaching centers in Portland, Salem, and Redmond, Ore., and Boise, Idaho. George Fox offers bachelor?s degrees in more than 40 majors, degree-completion programs for working adults, five seminary degrees, and 11 master?s and doctoral degrees.
Contact:

Lindsay Peterson

Assistant Director of Undergraduate Admissions

800-765-4369, ext. 2242
###
Find More Christian World News Press Releases