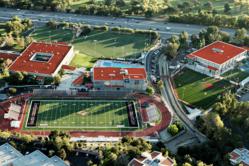 Austin, TX (PRWEB) December 05, 2011
It was announced Sunday that Hellas Construction would receive the distinguished ASBA Outstanding Facility of the Year award for their single-field project at Oaks Christian High School in Westlake Village, California.
Each year ASBA recognizes facilities that promote the highest standards of excellence in sports construction, highlighting projects that have successfully overcome challenges. The greatest obstacle for the Oaks Christian project was the limited amount of space allocated for activities. Natural grass was replaced with the Matrix Turf system that serves football, soccer and lacrosse, all within the running track. The ?D? areas were constructed to accommodate all jumping and throwing events for track. Typically a minimum of ten acres is required to accommodate the respective sports.
The Matrix Turf system chosen by Oaks Christian is the turf industry?s paramount product and is comprised of special monofilament (spinneret) yarns in different sizes, shapes and colors. This configuration creates the best traction and system stability possible, and under stadium lighting the color combination provides excellent light deflection. The environmentally friendly backing and high strength coating provides an unparalleled tuft bind. Its durability and playability is highly superior to other turf products available in the market.
Paul Oberhaus, VP of Business Operations and CFO for Oaks Christian High School stated, ?Over the years Oaks Christian School has had various brands of synthetic turf installed on different fields on our Campus. When we made the decision to install synthetic turf at our stadium, Hellas Construction had just entered the California market. After comparing initial responses and conducting personal interviews with suppliers, the Hellas Construction proposal was selected.?
?This decision was based on the history of the company, its? personnel, their in-house construction division, feedback from customers and price consideration. One of the biggest factors that we looked at when selecting Hellas Construction was warranty information.?
Oberhaus went on to say, ?During the due diligence period before awarding the contract, we researched all proposals objectively. We discovered that a greater percentage of past customers praised Hellas for the time spent in the planning phase of the project and communication during the construction phase. Additionally, many customers complimented their follow-up on construction/warranty related issues.?
?Taking all this into consideration and after using our field of 14 months, we know we made the right decision by selecting Hellas Construction. We look forward to working with Hellas again.?
The nonprofit American Sports Builders Association is a national organization for builders, designers and suppliers of materials for tennis courts, running tracks, synthetic turf fields, and indoor and outdoor synthetic sports surfaces. The ASBA works to raise professional standards and ensure that consumers receive services of the highest quality. As part of its work to achieve this goal, the Association sponsors a certification program that permits experienced tennis court, running track and sports field builders to demonstrate their competency by completing an examination on all areas of construction. ASBA?s theme, Build It Right, is exemplified by the ASBA Awards Program. The quality work showcased by the year?s award-winning facilities is at the heart of ASBA?s purpose.
About Hellas Construction

Headquartered in Austin, TX, Hellas is one of the largest sport contractors in the United States. While specializing in the general construction of sports facilities and synthetic surfaces, Hellas also champions innovative turf manufacturing, base construction, field, track and tennis installation and maintenance. Notable clients include the Dallas Cowboys Stadium, the Cotton Bowl, Baylor University, Idaho State, the Alamodome and Northern Arizona University. Hellas controls all business processes to take its products straight to the end-user including marketing, sales, quality control and project management. For more information visit HellasConstruction.com
Partnering with legendary materials manufacturer, Royal TenCate, Hellas is positioned for continued success. TenCate Grass develops and produces synthetic turf components and designs systems for top-flight sport, recreation and landscape applications.
Together with its partners, TenCate Grass strives to achieve a system approach. This gives users confidence in playing characteristics and lifespan. TenCate Grass has production facilities in Europe, the Middle East and North America.
###
Related Christian Singles Press Releases