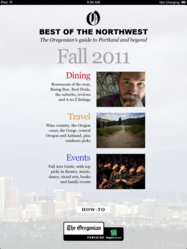 Portland, OR (PRWEB) October 24, 2011
The Oregonian, powering OregonLive.com, has launched the Best of the Northwest: Visitor guide to Portland and the Pacific Northwest iPad app, with premier issues focused on Greater Portland eating and drinking, events, music and the outdoors.
The Best of the Northwest: Visitor guide to Portland and the Pacific Northwest iPad app can be downloaded now for free. It also includes an introduction to the region, with photos, videos and short essays about what makes the Pacific Northwest a world-class travel destination.
"This app is exactly what its name says," said N. Christian Anderson III, publisher and president of The Oregonian. "With the unsurpassed experience and knowledge of Oregon's largest news organization, we will provide an insider's guide to all that is so wonderful about this great place we call home."
Future issues will include timely updates on venues and events in Greater Portland, plus coverage of other areas across the region, including Seattle and Vancouver, from the newsroom of The Oregonian.
?The Visitor guide is an innovative resource using the iPad platform to conveniently provide valuable information about entertainment, dining and events to all. The Oregonian and OregonLive.com will continue to work together to connect our communities and provide information in new and exciting ways,? said John Jackson, general manager, OregonLive.com.
The app is available for download at no charge in the App Store. It was developed and launched with Advance Internet and Mobile IQ?s PressRun software to provide a uniquely compelling iPad experience for people interested in travel and tourism in the Pacific Northwest.
Download the Best of the Northwest: Visitor guide to Portland and the Pacific Northwest for free from the App Store here.
?From restaurant reviews to remote campgrounds to family friendly activities, the app brings together the best of Portland and beyond in an easy-to-use format,? said Ben Sherman, editor-in-chief, OregonLive.com.
About OregonLive.com

OregonLive.com, a subsidiary of Advance Digital, is the leading local website for news and information throughout Oregon featuring the latest Portland news, business, sports, travel, weather, traffic, shopping and entertainment information. In addition, OregonLive.com has a comprehensive business listings directory, as well as local classified listings for jobs, homes, apartment rentals and autos. OregonLive.com is powered by The Oregonian and Hillsboro Argus.
About The Oregonian

The Oregonian is the leading newspaper in Oregon, read by a majority of adults in the Portland area. The Pulitizer-prize winning paper delivers news and entertainment every day and has been telling the story of the Northwest for 160 years. Weekly features highlighting Northwest people, events and lifestyles include Community News, A&E, FOODday, Homes, Autos, and Homes & Gardens. Subscribe at oregonlive.com/oregoniansubscribe.
About Advance Digital

Advance Digital, based in Jersey City, NJ, provides digital information and connection solutions for local consumers and businesses. The company operates 12 media properties across the U.S. that are the number one local news, information and community hubs in the markets they serve. The sites include al.com, cleveland.com, gulflive.com, MLive.com, NJ.com, NOLA.com, OregonLive.com, SILive.com, syracuse.com, MassLive.com, PennLive.com, and lehighvalleylive.com.
About Mobile IQ

Mobile IQ helps publishers and media agencies take their content mobile in intelligent, engaging, profitable ways. Its publishing hub enables content owners large and small to reach new audiences and make new revenue. Added with its ability to rapidly develop, integrated smartphone apps, Mobile IQ helps its customers stand out from the crowd. Please visit http://www.mobileiq.com or http://www.pressrun.com for more information.
###
Find More Christian Travel Sites Press Releases