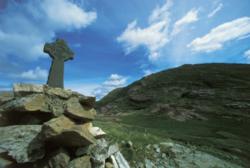 Albany, NY (PRWEB) February 12, 2012
Celtic Tours World Vacations is pleased to announce Pilgrimage Packages to Ireland for the 50th International Eucharistic Congress in Dublin, Ireland from Sunday June 10 to the 17th, 2012.
Once every 4 years, somewhere in the world over 500,000 people gather in a Eucharistic Congress to bear witness and promote an awareness of the central place of the Eucharist in the life and mission of the Catholic Church. This year, Dublin welcomes world-wide pilgrims to its emerald isles for 8 days of worship through mass, prayer and liturgical celebrations; film, music and theater, keynote addresses, workshops and discussion groups. International pilgrims from 5 continents are expected to join in the celebrations from June 10 ? 17, 2012. Presently parish communities, prayer groups, clergy members and individual pilgrims are gearing up to embark on this amazing journey of faith.
Ireland is a prime spot for the 50th International Eucharistic Congress because of its well-established Christian faith, dating back to the 4th century when St. Patrick traveled throughout Ireland converting and instructing believers in the Christian faith. Religious Pilgrims will find centuries old monastic sites, high crosses, elevating cathedrals and highly illuminated monastic manuscripts giving a glimpse into how early Christians worshipped and announced their religious fervor.
Celtic Tours World Vacations is pleased to present religious pilgrims with extraordinary group travel packages to experience the age old traditions and religious sites of Ireland in conjunction with the Eucharistic Congress. We are offering special rates on group tours with land only cost per person sharing starting at $ 1599 pps for 9 nights/10 days, $ 1399 pps for 8 nights/9 days and $ 1069 pps for 5 nights/6 days. All tours include most dinners, breakfast daily, full sightseeing, transfers and admissions. Special Itineraries can be tailored to suite. Self-drive and city stay rates are available. Airfare and departure taxes if required are additional and rates may vary with departure dates. Call our Group Specialists for more details 1-800-833-4373.
We invite groups of travelers to join in the religious fervor and excitement of this once in a lifetime opportunity to explore the religious side of Ireland, join in the religious celebrations of the Eucharistic Congress and renew their faith. Join the journey.
###