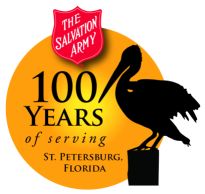 St. Petersburg, FL (PRWEB) February 07, 2012
Volunteer Anthony Rizzo of The Salvation Army, St. Petersburg, Florida was recognized as a finalist in the WEDU Be More Awards?, Be More Involved, Mason Dixon Award for Volunteerism. Mason Dixon, community philanthropist and Q105 radio personality, will ultimately choose and present the award winner. The seventh annual Be More Awards will take place on Thursday, Feb. 9, 2012 at the A La carte Event Pavilion in Tampa. The annual event, recognized as the ?Academy? Awards for Nonprofits,? begins at 11:00am.
Anthony Rizzo comes from Long Island, New York and works full-time for Bright Horizons Family Solutions as a teacher and community service liaison. Anthony applied with The Salvation Army in St. Petersburg, Florida in June 2011 and volunteers on his only days off with children in the Red Shield Lodge shelter.
Anthony was an immediate hit in the shelter! He arrived with anticipation, enthusiasm, and bags full of crafts, books, and activities. He volunteered with children while their mothers attended morning workshops and with children of families waiting to register for Christmas assistance. He planned and coordinated monthly activities including a barbeque and holiday activities for shelter mothers and children.
Anthony?s company establishes not-for-profit Bright Spaces for children in Shelters ? ?safe places for children in times of crisis.? Part of our Family Unit is designated a Bright Space but there was very little contact with the establishing center. Part of Anthony?s job is to reconnect the establishing centers with the Bright Spaces they create in community shelters. He made it come alive again with child care volunteers and enrichment programs. He is implementing his company?s ?All Star Volunteer Program? which allows center employees to come once a month for selected activities.
Anthony began his career in child care with Boys & Girls Club in 1996. He has worked with Big Brothers Big Sisters and has been with Bright Horizons for 9 years. Anthony is single and loves to travel. ?I like to be behind the scenes. I do these things because I love children and love to do what I am doing.? One person can make an extraordinary difference and Anthony Rizzo has done so for us in a very short time.
For more information on what is happening in the Clearwater, St. Petersburg and Tampa Salvation Army visit the Tampa Bay Area Salvation Army Facebook page at https://www.facebook.com/SalvationArmyTampaBay.
About The Salvation Army

The Salvation Army, an evangelical part of the universal Christian church established in London in 1865, has been supporting those in need in His name without discrimination for 130 years in the United States. Nearly 30 million Americans receive assistance from The Salvation Army each year through the broadest array of social services that range from providing food for the hungry, relief for disaster victims, assistance for the disabled, outreach to the elderly and ill, clothing and shelter to the homeless and opportunities for underprivileged children. 82 cents of every dollar The Salvation Army spends is used to support those services in 5,000 communities nationwide. For more information about Salvation Army, St. Petersburg, of Florida, visit http://www.sastpete.org, or for a location near you visit http://www.salvationarmyusa.org.
###
Find More Christian Singles Press Releases