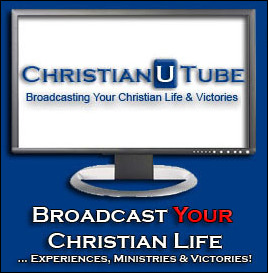 Toronto, ON (PRWEB) March 27, 2007
TheUTubeNetwork.com Founder & CEO Spider Ledesma, announced the launching of their first exclusive industry site and video sharing community in the world at ChristianUTube.com.
All ChristianUTube.com members first 10 minutes of video are Free – so sign up for your very own Free video blog and begin uploading your Christian videos and begin sharing today.
CEO Spider Ledesma, Lakewood Church congregation member since 1993, stated in an upbeat manner, "We are very pleased to offer the global Christian community an exclusive Christian video sharing model that will not only provide entertainment and lots of fun – but to empower all aspects of Christian life including but not limited to: shopping, music, ministry, churches, business, dating, job & resume postings, prayer requests, books, services offered, travels, rentals, movies & DVD's, etc."
The Santa Cruz, CA native continued, "Our continuous goal is to create and develop the most comprehensive Christian video sharing community (and proprietary software) in the world that includes serving all aspects of a Christian's every day life. Our thinking was to go beyond providing an entertainment and media platform – to helping Christians strategically connect with other Christians via video in real-time, for any reason, to meet any need. We have always envisioned ChristianUTube.com empowering the global Christian community to expedite selling or renting their homes, market their business interests and/or companies with commercials, find ministries, locate services offered, find a date/healthy relationship, procure business advice, locate vacation rentals, connect Christian entrepreneurs with Christian investors, as well as impacting all levels of ministry, etc. In the final analysis ChristianUTube.com is here to empower the global Christian community's daily needs with a new media tool and vision of Victory."
Concerning all forms of ministry Ledesma stated, "We believe God has appointed this media ministry to build up and enlarge the reach and global impact of many anointed Christian ministries around the world including but not limited to: alternative, business, financial, entertainment, music, sports, youth, new, dramatic arts and/or 'home-made-ministries-shot-from-the-family-room' which would not normally be given the opportunity to air their ministry message and/or products to millions of Christian consumers – due to their unconventional format or lack of significant financing to purchase considerably more expensive airtime on traditional networks. The 3 investors (one Canadian & 2 American) that helped launch ChristianUTube.com know what it's like to financially struggle though one is giving it all they got and putting in an honest work week – we are very much 'blue collar' people like most people are. We really wanted to do something that would empower other Christians in a myriad of ways including growing people's ability to earn a better living financially. Now any Christian can have their ministry, product, service and/or unique message televised and 'On-Demand' at ChristianUTube.com."
When asked about what ChristianUTube.com expectations are concerning the launch he stated, "We are very excited at our launch and expect the best things to happen to us. We know the Lord wants to do a new thing here for the entire Christian community according to Isaiah 43:19. My pastor Joel Osteen coaches us to expect good things to happen to us and reminds us constantly that God will do above all that we could ask or think – so in accordance with our faith and God's good character we are expecting our new media model to be very well received by the Christian community and that ChristianUTube.com has God's favor upon our operations and will in-turn begin serving and meeting the daily needs within our community in an effective and comprehensive manner via video."
Concerning future software upgrades he added, "We are already beginning to break ground on our second version (UTv2.0) of our user software and we will reveal some very kool site layout edits and user-friendly video blog upgrades with our media platform and member communications."
The CEO touched on a few points below to educate readers.

    Video blogs: ChristianUTube.com offer lots of versatility to our community members as they can pick from several different template styles, blog color schemes and font colors – as well as individually edit and customize their own template if they have programming skills!

    Webcams & Camcorders: ChristianUTube.com fist version (UTv1.0) technology allows community members simple uploads for Webcam users as well as camcorder users. All the info you need on how to upload video from your camcorder to your computer or for what type of hardware (Webcam) a beginner should buy to begin uploading your own videos on ChristianUTube.com today – can be found in our FAQs section (Q: #1 & #9).

    Music & MP3's: ChristianUTube.com allows users to upload to their video blogs their favorite Christian music in MP3 format. All the info you need on how to make MP3 files from your CD's (as well as direct you to FREE music software you can download to begin uploading your own MP3 music files today) can be found in our FAQs section (Q: #2).

    RSS Feeds: Every community member has on their video blog homepage their very own unique RSS Feed that anyone can subscribe too to keep up to date on all your latest entries (video, photo, MP3 & text). RSS is great for promoting your Christian vids, products for sale, and new entries of any kind.

    Photos: Slap them up now… as many as you want… and smile! = )
Sign up for your free ChristianUTube.com account and begin broadcasting your Christian Life, Experiences & Victories at ChristianUTube.com.
###